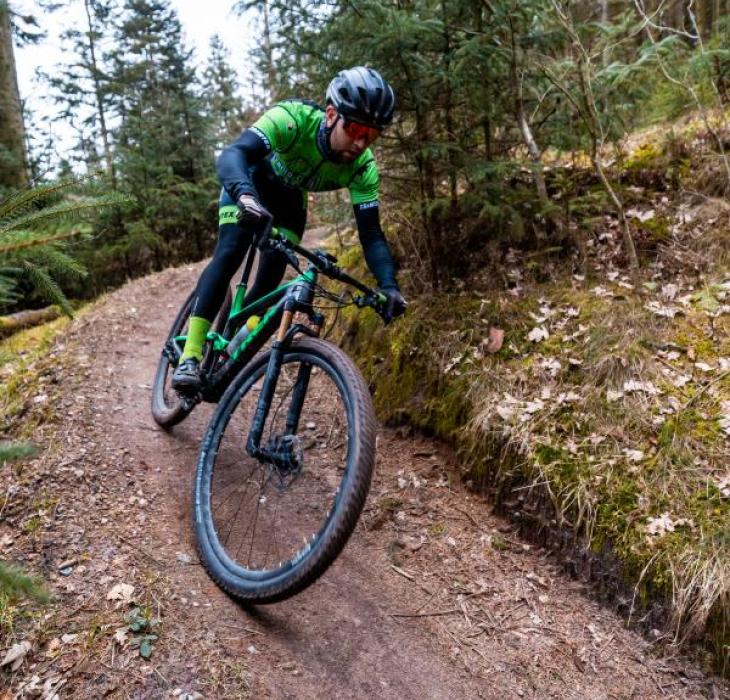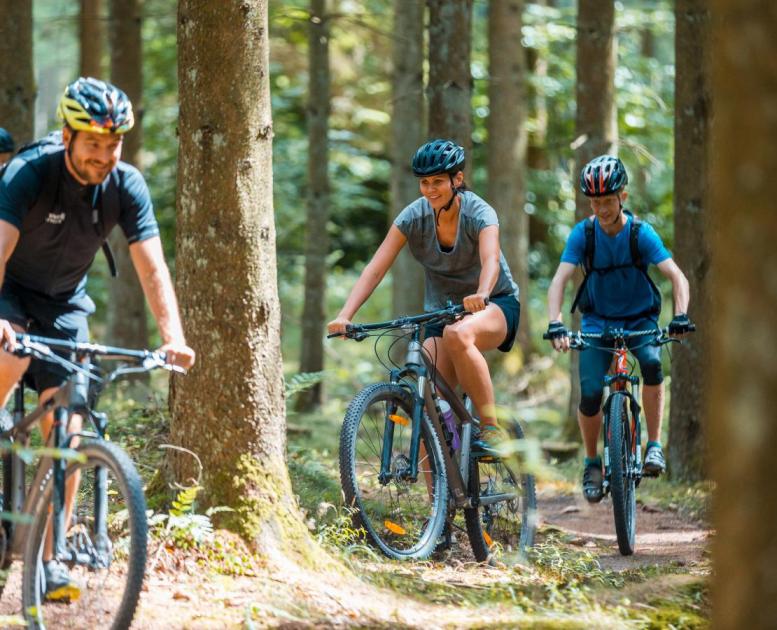 Mountain biking in Rold Skov
Photo:
RebildPorten
&
RebildPorten, Delsted - Made in Himmerland
Great MTB trails and MTB technical area in Rold Forest / Rold Skov
Here you wil find trails that challenge both beginners and those experienced with Mountain biking. 
Rold Forest is incredibly popular among mountain bikers. Rold Forest is one of Denmark's largest MTB-areas with 50 km of trails in total. The trails include singletrack, good flow, considerable elevation and many fun and challenging elements.
The terrain in Rold Forest is varied and hilly, and the trails offer both easy and difficult single track, sections with a great flow and large climbs. The many trails in the area mean that there is something for both the MTB beginner and the expert. 
Download an overview map of the main mountain bike trails in Rold Forest.
MTB trails in Rold Forest
The tracks in Rold Skov are a part of the "10 Spir", which is the name for the 10 best mountain bike areas in the state owned forests in Denmark. See the remaining '10 spir' MTB trails.  
Only ride where permitted
In nature you may only ride a bike on roads and paths. 
No biking in Rebild Bakker or on the ski route.
No biking in Rebild Bakker or on the ski route. Avoid paths for horseback riding, hiking etc. outside forest roads. 
Biking on ancient monuments, burial mounds, dikes and stairs it not allowed. 
Biking in private forests is not allowed from sundown to 6:00 in the morning.
Ride responsibly
Adjust your speed and keep your distance - the Danish Road Traffic Act also apply to the nature.
Ride with others, and remember your helmet, phone, 112-app and Health Insurance-card.
Protect the trails in periods with bad weather by using solid tracks and forest roads.
Show consideration
Ride at an easy pace when you meet others. As early as possible, use a bell or a verbal "ding-ding" to alert that you are approaching.
Do not dump trash or waste in nature. 
Avoid places with many forest visitors, and protect the animals and vegetation.