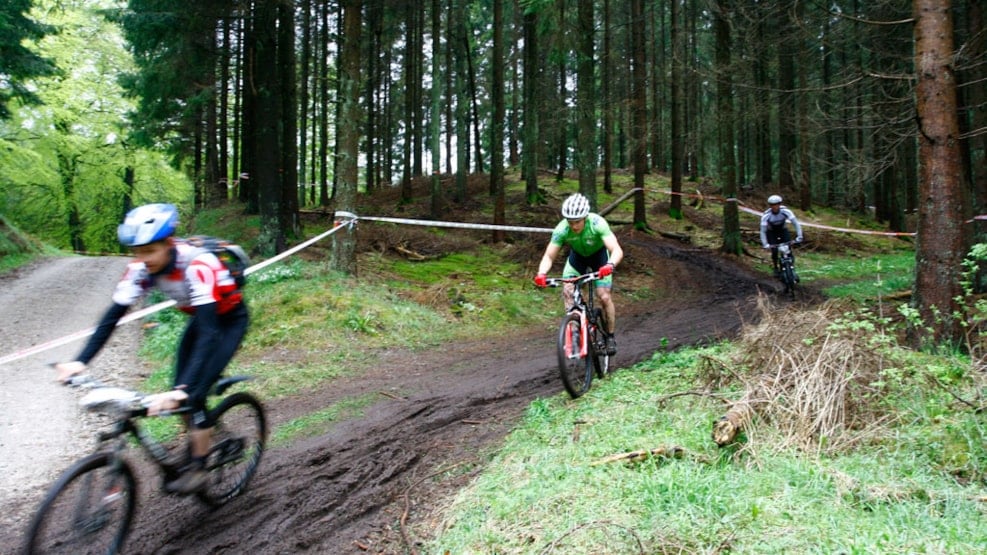 Mountain biking in Rebild
With some of Denmark's best mountain bike trails, you are guaranteed a wonderful time in the forest. Here you will find trails for all skill levels.  
In Rold Forest you will find some of the best mountain bike trails in Denmark. All MTB trails are marked and go through beautiful and varied terrain. The trails vary between gravel roads and small forest roads, and between flat and hilly terrain.
Trails in the Rold Skov area
Currently there are three trails:
The Great Rold Skov Trail consists of an easy blue trail, with the option of adding red and/or black stretches additionally, to increase the difficulty. The blue trail is around 19 km with 257 vertical metres, with the length of the trail increasing if you choose to try the red or black stretches. The trail has singletrack, stretches with good flow and some passages with elevation that are sure to challenge you. You can download a map of the mtb trail from the Danish Nature Agency, however it is only in Danish. The trail passes several natural attractions. 
The 24 hour trail gets its name from the yearly 'Rold24Race', which is a MTB race that takes place on the 14 km trail. With 200 vertical meters, the trail offers many difficult singletracks. Here you will also find the practice area, where you can hone your mtb technique.
The Rold Forest downhill track is 450 m long, with approximately 45 vertical metres. The trail is considered extremely difficult, with small and large jumps, berms, northshore obstacles and more. You will need a safety course (license) to try the trail. The trail is used in the Danish downhill-cup. 
If you want more information about the trails in Rold Forest, you can use the app "Singletracker". This app will show you the blue and red trail from the Great Rold Skov Trail, but also inform you about trail ratings and much more. 
Difficulty levels
The trails in Rold Forest have four levels of difficulty:
Blue: Easy
Red: Medium
Black: Difficult
Orange: Extreme
If you want to try mountain biking, you can find information about local bike rentals on this site. 
The tracks in Rold Forest are a part of the "10 Spir" or The 10 Spires, which are identified as some of the best trails in Denmark by The Danish Nature Agency. All trails are located in state owned forests.
Mountain bike code of conduct
Ride where you are allowed:
- In nature you may only ride a bike on roads and paths. 
- Avoid paths for horseback riding, hiking etc. outside forest roads. 
- Biking on ancient monuments, burial mounds, dikes and stairs is not allowed. 
- Biking in private forests is not allowed from sundown to 6:00 in the morning.
Ride responsibly:
- Adjust your speed and keep your distance - the Danish Road Traffic Act also applies to nature. 
- Ride with others, and remember the helmet, phone, 112-app and Health Insurance-card.
- Protect the trails in periods with bad weather by using solid tracks and forest roads.
Show consideration: 
- Ride at an easy pace when you meet others. As early as possible, use the bell or a verbal "ding-ding" to alert that you are approaching. 
- Do not dump waste in nature. 
- Avoid places with many forest visitors, and protect the animals and vegetation.