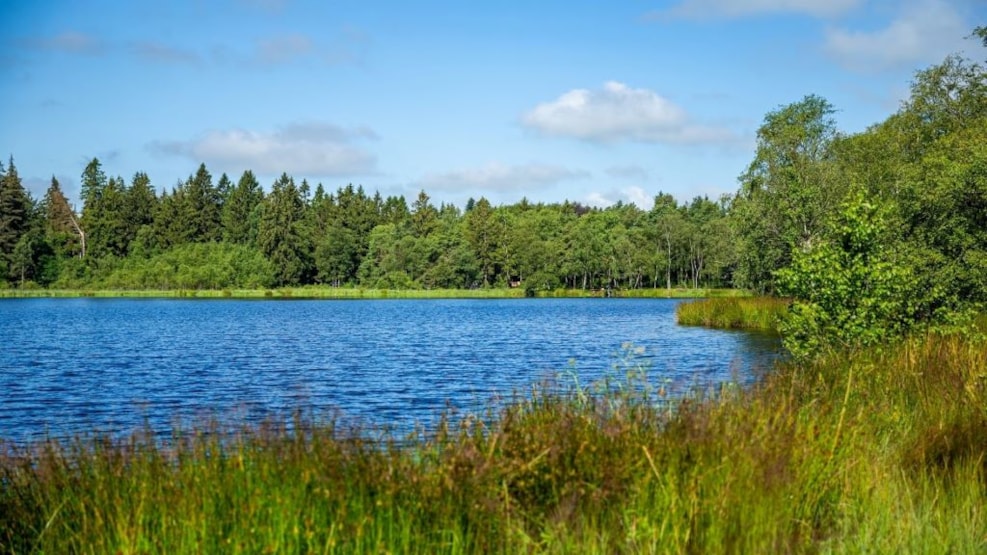 Fishing in Rebild
The streams and lakes in Rebild invites anglers to fish for their own dinner while enjoying the wonderful nature. The large amount of streams and lakes makes for a great fishing opportunity. All you need to acquire is a fishing license. However, some lakes and streams require an additional local fishing license.
The national fishing license can be bought here. 
Lakes that only require the national fishing license:
Mastrupsøerne, which is four lakes in Støvring. At these lakes, you can fish for river trout and roach. During winter, the sea trout migrate into the lake. You can park close by the lake.
Hornum Lake is known for its perch and pike. While you fish, you can enjoy the fascinating birdlife. Fishing is only allowed on the north eastern side, as the other side is privately owned. You can also find a natural playground by the lake.
At the large lake in Suldrup, you can fish for crucian carp, roach, and rudd. The lake is contaminated and, therefore, you will primarily find roaches in this lake.
Mossø is located south of Skørping by Jamborettepladsen. At this lake you can find pike, perch and roach.
Store Økssø is another lake south of Skørping, and at this lake you can fish for pike and perch. From the parking lot, which is 200 meters away, and all around the lake, you can find a handicap friendly path.
In Gravlev Valley, two sections of Lindenborg Stream have now been opened for fishing. At one of the sections, you might experience a bull inside the fence. You can fish for trout and sea trout at these two sections. Fishing in other part in Lindenborg Stream is prohibited unless you have the additional local fishing license.
Lakes that requires an additional local fishing license:
In Lindenborg Stream, you can find sea trout, river trout and rainbow trout and the stream is known far and wide. In the many curves of the stream, you will find trout just waiting to be caught, and you can also enjoy the wonderful view of Rold Skov on each side of the stream.
Simested Stream is one of Denmark's best streams for sea trout. The stream is between 3 and 8 meters wide and is a very clear stream with curves and depressions. It is surrounded by meadow and uncultivated land.
Lerkenfeld Stream takes its rise in Mejlby south of Rold Skov, and flows into the fjord Limfjorden. It runs though the beautiful landscape in Himmerland, and it is ideal for the trout to spawn and grow. You can find sea trout, river trout, and rainbow trout here. In the early spring, you can also find the Limfjord steelheads in the stream.
Put & Take fishing:
Fishing at a put and take lake does not require a fishing license. Volstrup Fishing Park and Buderupholm Fiskesøer (fishing lakes) are great places for put and take fishing. Put and take fishing can be enjoyed by the whole families, anglers or anyone who might want to enjoy a freshly caught fish.