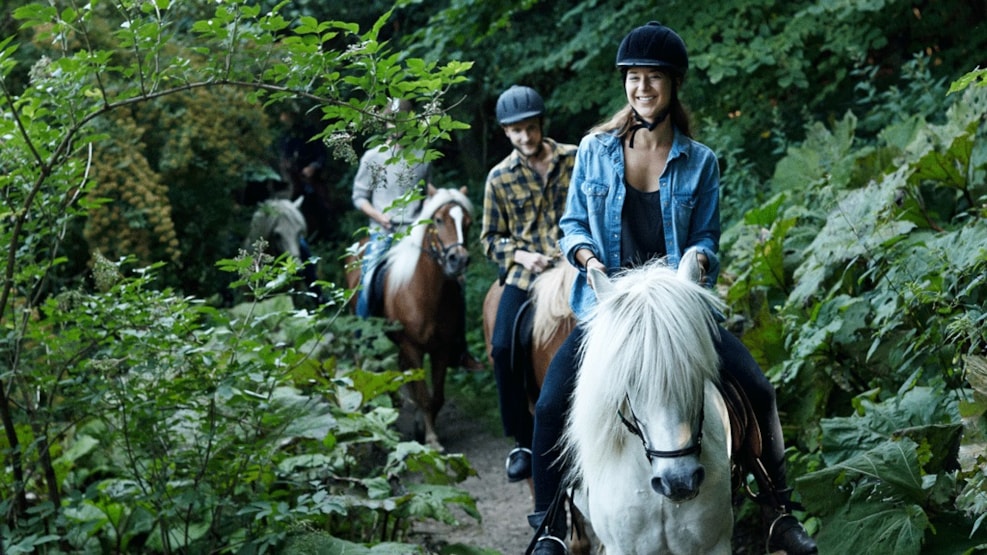 Horseback riding in Rold Skov
Horseback riding is a wonderful way to experience Rold Forest and is allowed in most of the state-owned parts.  
It is possible to hire a guide and horses at Rold Skov B&B. 
Horseback riding is allowed almost everywhere in the northern part of the state forest, except for burial mounds and other ancient monuments. You can download a map with an overview of the riding-paths in the northern forest.  
It is allowed to ride in most of the southern part of Rold Forest. However, you are only allowed to ride on the marked paths from the black line and further north, seen on the map over the southern part of the forest. The restriction of horseback riding, in this area, is due to the animal life, including the red deer. The black line at the top of the map marks the border. 
Regulations for riding in state forest:
Where can you ride?
Horseback riding is allowed on the forest floor and on asphalt roads, paved roads and gravel roads which are wider than 2.5 meters
It is not allowed to ride on MTB or hiking trails
Ride responsibly
Protect the trails by using solid trails and the forest roads
Ride together with others, bring a cellphone and 112-app
Remember that some of the paths are shared with other visitors
Use the recommended parking spots
Show consideration
Ride slowly when passing other visitors
Ride in the middle of gravel paths or on the road side
Do not throw your garbage in the nature
Show consideration towards other visitors of the forest