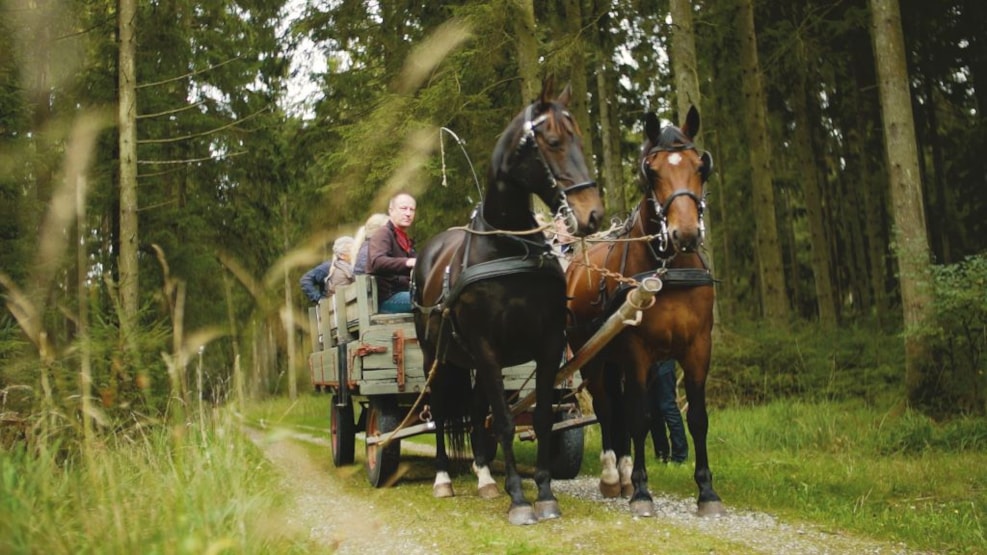 Horseback riding and carriage - Rold Forest
Horseback riding trips in Rold Forest
You can choose between three different trips: 
A short trip in Hesselholt Forest, around 6 km. The trip takes approx. 1 - 1½ hours and costs DKK 250 per. person. Here you will really experience the great forest. 


A long trip, that goes from Arden to St. Økssø, with a possible break at the lake. It is approx. 12 km long and takes 2 - 2½ hours. It costs DKK 400 per. person. This is a very beautiful trip.


It is also possible to do a day-trip, with lunch in the forest. On the trip you will see St. Økssø, Ravnkilden, Rebild Bakker and much more. The trip is approx. 20 km, takes 5 - 6 hours. Breaks and lunch is included in the trip, which costs DKK 900 pr. person. 
There is a minimum of two participants. All trips will be adjusted to fit your level of experience. 
Horse Carriage
It is also possible to take a horse carriage ride. The trips go through the southern part of Rold Forest. 
On your trip you will see the sinkholes 'Røverstuen' and 'Hestegravene', where stories about the notorious robbers of Rold and other stories will be told. 
Afterwards, we will go to the bog Lille Økssø where there is a lookout tower, which allows you to take in the views of the abundant wildlife in this part of Rold forest. 
If you have brought coffee/cake, lunch, drinks, e.g. Store Økssø is the obvious place for a break - this should be coordinated with the driver before the beginning of the tour in order to adapt the route - or, you can also visit MosskovPavillonen, located next to the lake. It is a cozy eatery/restaurant where you can buy ice cream, cake, coffee, as well as both hot and cold dishes for lunch. 
The horse carriage rides goes through some of Rold forest's scenic roads, the outbound and inbound journey takes different routes.
The drivers are happy to tell stories about the area, the nature, and who knows - maybe a fun little story or anecdote.
The capacity of the carriage is a maximum of 12 adults. There is no space for wheelchairs on the carriage.
PRICE: 2 hours 1200 DKK. - thereafter 750 DKK. per hour. 
DRIVERS:
Jytte Sigfredsen, Birkevej 15, 9510 Arden, phone: 24 85 63 14 / 28 96 31 62, e-mail: Birkevej.john@gmail.com
Jytte speaks Danish and English. 
Jytte also has a smaller carriage, which can be used for a romantic tour for 2 people - prices will be arranged individually.
Anton Jensen, Skovvej 56, 9510 Arden, phone: 20 28 62 55
Anton speaks Danish. 
Both Jytte and Anton are pleased to tell about the area and the nature during the tour.