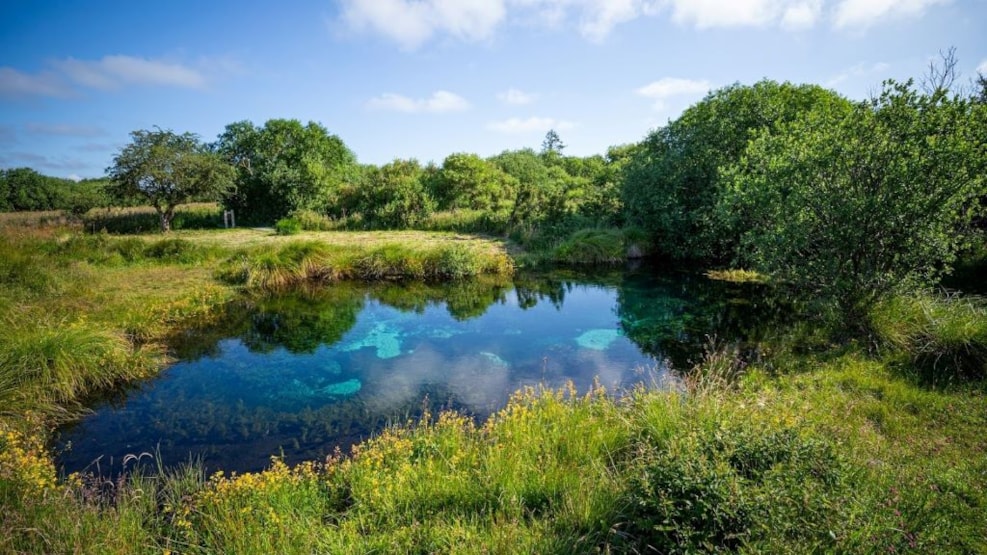 Store Blåkilde
Store Blåkilde is a breathtaking sight and one of the most beautiful springs in the area, with its clear blue waters.  
How to find Store Blåkilde
The spring is located south-south west of the lake Madum Sø. The easiest way to get there is by Route 519, Møldrupvej, which runs between Skørping and Astrup. Park your car at Store Blåkilde Parkering and cross the road to find the path that takes you to Store Blåkilde. 
The largest spring in Denmark?
Store Blåkilde is a basin spring. It has previously been regarded as the most water abundant of the springs in the Rold area and hence Denmark's largest sping. However, recent measurements show that it is smaller than both Lille Blåkilde and Gravlev Spring. The main spring has an output of about 80 litres per second, and the combined spring area is measured to yield around 300 litres per second. 
The basin is almost oval. It is about 12 metres wide and has a depth of 4-5 metres. From several small craters at the bottom, the water emerges with such a power that you can easily get a light coin to stay in the jet stream above the crater.
The bottom of the basin is made up of light sand, which lights up the clear blue water. Especially on sunny days, the color of the water in the spring range from stunning sapphire to a deep turquoise.  
The drainage from the spring is relatively wide and the water moves smoothly. A few metres further along, where the drain ends at Villestrup Å, more small springs can be seen.
Wildlife in and around the spring
In the clear waters of the spring, trout are often seen, and especially during a hard winter, the relatively hot water of the spring attracts a lot of fish. In the winter, the ice-free spring also attracts birds, such as the white-throated dipper, the kingfisher and the grey wagtail.