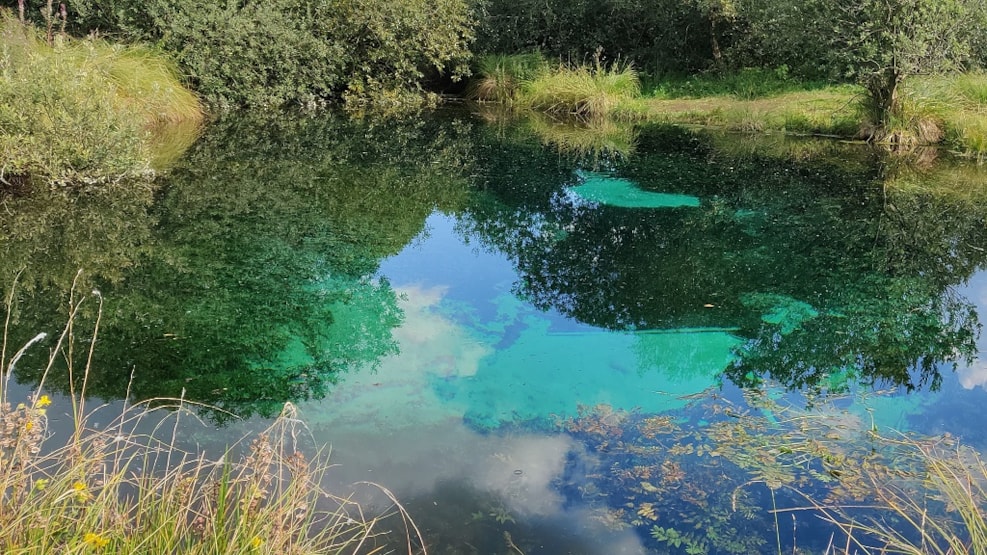 Store Blåkilde
One of Rold Skov's most visited natural gems.
If you want a truly unique nature experience on your trip to Himmerland, make sure to visit Store Blåkilde in Rold Skov. This legendary place is a popular destination for both locals and tourists who wish to experience the fascinating spring with its unique color that has given it its name.
Store Blåkilde is one of Denmark's largest and most abundant basin springs, measuring 12 meters in width and 4 meters in depth. That in itself is impressive, but the main reason for the spring's popularity - and for much of the superstition associated with it throughout several centuries - is the beautiful sapphire blue color that is clearly visible in the spring.
The bottom of the spring consists of pure lime in several places, and particles from both sand and lime clearly show where the water seeps out, creating a special (and fascinating) play in the spring. It is also the lime in the bottom that makes the water appear blue, partly because the water is crystal clear, allowing the lime bottom to shine through. The clear water also makes it easy to see the coins lying on the bottom - perhaps offerings from people who still hold on to the belief in the magical powers of the spring?
Store Blåkilde is only one kilometer from the associated parking lot, but that doesn't make the walk to and from the spring any less beautiful. The trail is relatively easy for all ages, and along the way, you can enjoy views of fields and meadows before reaching the boardwalk that leads you the rest of the way to Store Blåkilde. Keep a close eye on the plants you pass by on your way - the spring is located in a marsh with willow thickets, anemones, orchids, marsh marigolds, and blooming grasses, and if you visit the spring in May, in the early morning hours, there is a good chance of hearing the nightingale sing.
Remember that bathing in the spring is prohibited, and it is recommended to keep a distance from the edges as they can be unstable and very marshy.
Store Blåkilde is part of a vast underground water system in Rold Skov, where many of the area's springs and lakes are interconnected. If you visit Store Blåkilde, we recommend visiting some of the other beautiful gems in the area, including the nearby Madum Sø, Store Økssø, Lille Blåkilde - or simply taking a walk in the beautiful Rold Skov.
If you're interested in experiencing more of Rold Skov's fascinating lime-rich underground, you should also visit the Rebildcenter and the Thingbæk Limestone Mines - perhaps followed by a cozy dinner at the nearby Røverstuen or Rold Storkro?