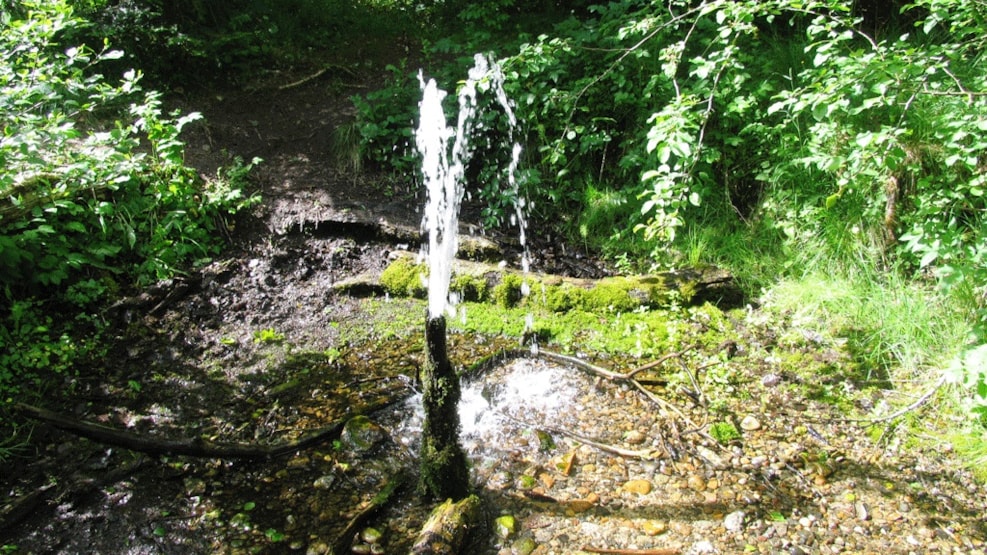 Springkilden
The spring is found south-west of Rebild Bakker, in Rold Vesterskov at the bottom of Lindenborg river valley. On the map over Rold Forest, it is number 34. You drive through Rold Skov on Hobrovej (route 180) and park at the parking area on the west side of the road at Tveden, which is the large cultivated area in the middle of the forest. The parking area is close to the boundary between Rebild and Mariagerfjord municipalities.
From the parking area, there is a gravel road to the west. After a few metres the road divides. You go to the right. 300 metres further ahead you reach the forest and continue on the gravel road - which goes down and down and down. 
Finally, you get to the bottom of Lindenborg river valley. Stop and listen. Follow the sound and you will see the spring immediately. The spring is on the right-hand side of the road.
An artesian well has been formed at this aquifer spring. It is formed by a thick iron pipe that has been hammered down into the ground.
In Winter, Springkilden is something special. When the cold is intense, the splashing water freezes to ice on the sides of the pipe, and the area around the spring is glazed in ice.
When you are at Springkilden, you are not allowed to go further than to the spring. Rold Vesterskov is privately owned by Lindenborg Manor.