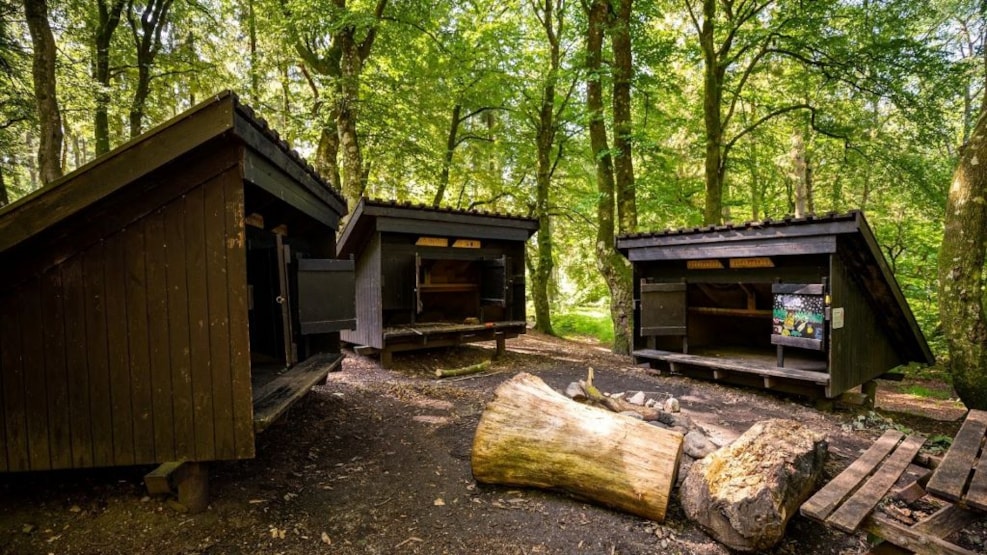 Sleeping in the wild in Rold Skov
You can spend the night outside, in the areas owned by the Danish Nature Agency. 
You can sleep out in the wild, in four different ways:
Sleep on the forest floor

Put up a tent in areas specified by the Danish Nature Agency (fri teltning)

Small campsites (primitiv overnatningsplads)

Large campsites (lejrplads)
Sleep on the forest floor without a tent
In the state-owned forest, you are allowed to sleep on the forest floor on a mat, in a sleeping bag, a blanket or tarp. You can also use a hammock, but beware not to damage the tree. 
Notice that you may not use a tarp as a tent, as this is only allowed in specified areas. 
Tenting in specified areas
In Nørreskoven, Fællesskov and Mosskov/Øster Bane Skov it is allowed to camp and put up your tent. 
The 1-2-3 Rule of tenting in specified areas: 
You are allowed to stay for one night at the same location
You are allowed to place a maximum two tents at the same location
You are allowed to use tents designated for a maximum of three persons
Please read about the additional restrictions on the Danish Nature Agency's web page. 
You can see the specified areas here, if you search for: overnatning --> Frit teltningsområde 
Rules for staying at small campsites
This kind of site is typically quite primitive. Some only consist of a spot for a tent, others may include a shelter, watertap and/or primitive toilets. They are intended for individuals, families and small groups. It is only allowed to stay for two nights.
To find a small campsite go to: udinaturen.dk - Choose ''Primitiv overnatningsplads'' or ''Primitiv overnatningsplads med shelter''
Large campsites
There are also larger campsites intended for larger groups, such as scouts or school classes. However, you are always welcome to use the shelters in the area, if they are not in use. You may also book the shelters, if you are a group larger than 15 people. 
Read more about outdoor sleeping possibilities on the web page of the Danish Nature Agency.