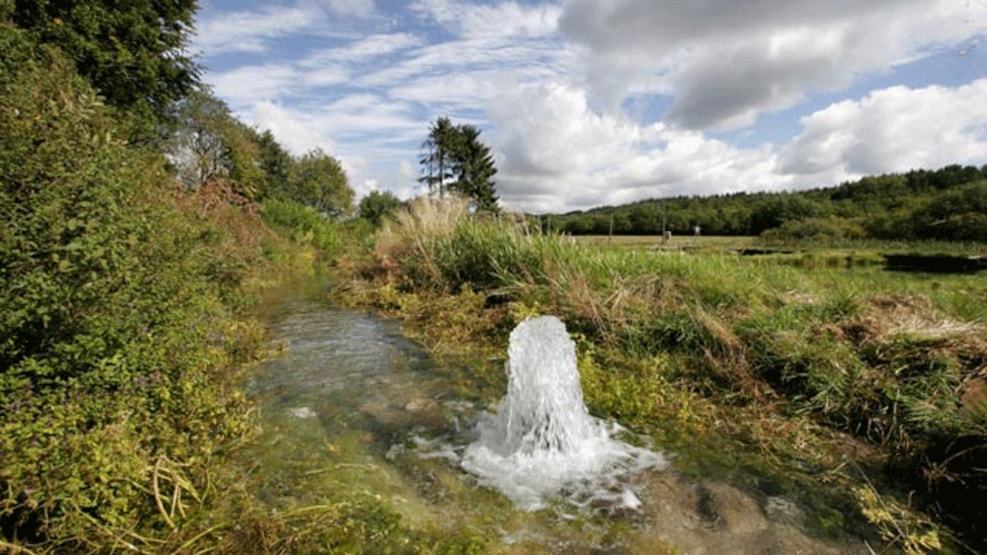 Skillingbrokilden and Thingbækkilden
On the westside og Gravlevdalen, you will find the two artesian springs, Skillingbrokilden og Thingbækkilden.
Several of the springs on the western side of Gravlev Valley have previously provided water to fish farms, which have now been closed. The only springs in the area still used for fish farming are the springs at Skillingbro and Thingbæk.
The Skillingbro Spring is located behind Skillingbro Nature School. The spring is a so-called artesian well. The name refers to Artois, a province in northern France, where, from the 1100s onwards, groundwater flowed under pressure up through pipes beaten into the ground. In other words, 'a man-made spring'. When the water flows up, it is caused by a water-resistant layer in the hill behind the spring. It is a membrane of hard moor-pan or clay that packs the water higher up in the hill, higher than the pipe, and which perforates the membrane below. Consequently, the water is under pressure, and typically sprays into the air - out of the pipe.
Today, Skillingbro Spring supplies water to an ecological fish farm museum with limited production. The spring produces 25 litres of water per second. The water that is not used for the fish farm runs through a restored stream in the direction of Lindenborg Å. Skillingbro Nature School is used by Rebild Nature School as well as for all kinds of meetings and courses.
Thingbæk Spring, with about 35 litres per second, is located at the Rebild Centre (Rebildcentret) and is an artesian well. As well as the spring, a fish farm is also found here, and, previously, a water mill existed.