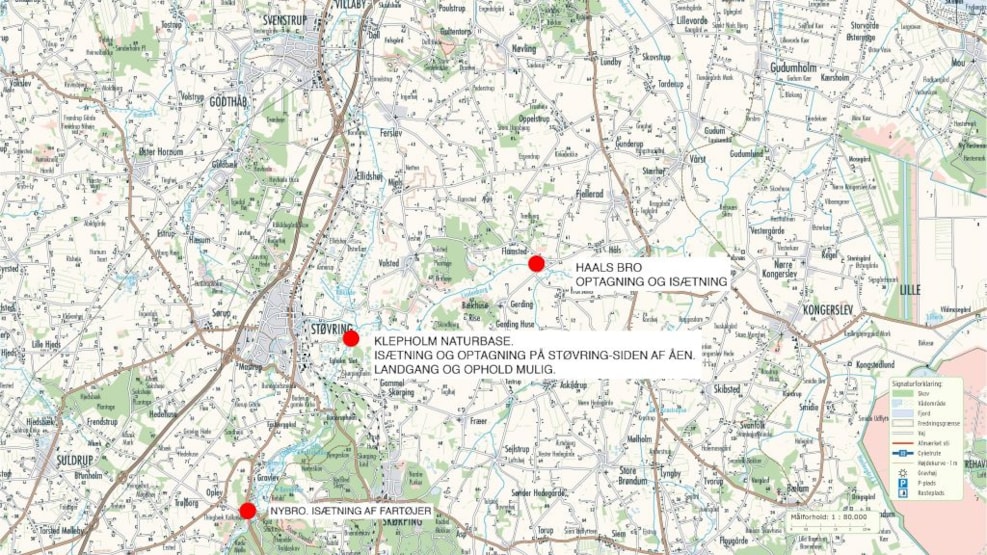 Sailing on the stream Lindenborg Å
Sailing on Lindenborg Å is a great experience in nature. Sail down the clear river. When you put your canoe or paddleboard in the water at Nybro, you will be able to enjoy e.g. the view from the foot of the beautiful hills, Rebild Bakker. Along the way, you sail through Gravlev Valley, a wonderful experience in between the large fields, tall reeds, and beautiful trees. On your way, you will also pass by the spring Lille Blåkilde - you must be aware that it is not allowed to sail into the spring, but you can make a stop here and walk to the spring. Here you have the opportunity to taste the fresh spring water and fill your water bottle.
To ensure these experiences in the future, the Users' Council at Lindenborg Å has prepared advice on sensible and considerate sailing:
do not sail with tied canoes
keep distance between canoes
competitive sailing does not belong on the river
the banks and reed forest must not be sailed into
sailing in springs and streams is prohibited.
Waste must be taken home or in the garbage bags of the rest areas
avoid noise - let nature create the sounds.
pay attention to anglers and the vulnerable fishing gear
Fishing from the canoe etc. is prohibited.
loading, hauling and landing are only allowed at the pick-up points that are marked on the map
fishing cabins and windbreakers are private property and may not be used
bonfires and grills may only be lit at designated rest and accommodation places
camping and accommodation may only take place with the direct permission of the broad owner
Follow the advice and you will have a wonderful trip on the river - without harming nature, without disturbing wildlife and without disturbing other shore owners, anglers or sailors along the way.
Map: Find a Danish map and brochure about "Sailing on Lindenborg Å" here (ONLY IN DANISH). 
About the river
The stream originates at the town Ravnkilde south of Rold Skov and its outlet is at the fjord Limfjorden. You are allowed sail on the stream from Nybro by Thingbæk Kalkminer to the outlet in the Limfjord, a stretch of 36.5 km.
Canoes etc. can be put in and picked up at Nybro, at Klepholm (Støvring) and at Haals Bro.
At the stretch from Nybro to Buderup Bro, the stream and the river valley is protected and also a Natura2000 area. This stretch is particularly vulnerable to disturbance. The river is narrow and shallow, so you must pay extra attention to sailing sensibly, so that you do not damage the banks and the trout's spawning banks in the gravel bottom. You can meet kingfishers, mountain wagtails, otters and other rare animals as you pass the river valleys many springs.