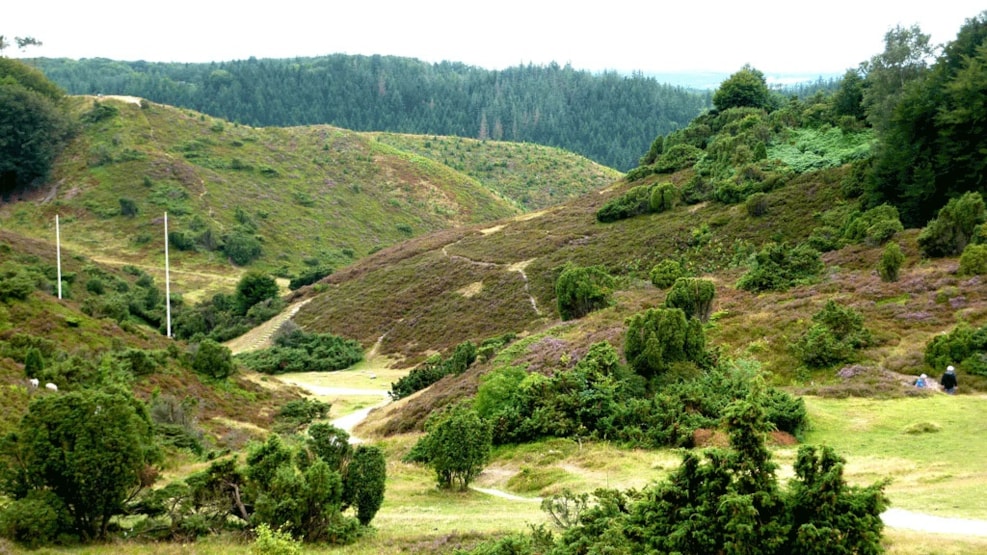 Rebild Bakker National Park
Rebild Bakker National Park was founded in 1912 by Danish emigrants living in the USA. The scenery of Rebild Bakker is an extraordinary sight to see the whole year round. Today it is the backdrop to one of the largest 4th of July Celebrations, outside the US. 
Rebild Bakker National Park is an impressive area of hills covered with heather. The National Park is located in Rebild, which is a small town around 25 km south of Aalborg. You will find fantastic hiking trails in the area, with one of the most popular being Rebild bakker ruten. 
You can learn more about the history and geology of Rebild Bakker on our webpage. 
The history of Rebild Bakker National Park
In 1911 the area was bought by a group of Americans with Danish descent. The area was given to the Danish government in 1912, with the stipulation that a celebration must be held every year on the 4th of July, celebrating the friendship between Denmark and the US. The non-profit organization Rebild National Park Society inc., was founded to manage and direct the 4th of July celebrations in Rebild Bakker. The celebration has been held every year ever since 1912, except during the First World War and Second World War. You can read more about the 4th of July Celebrations which take place in the hills.  
At the entrance to Rebild Bakker, on the right-hand side you will find the "Friendship Lawn" with a sculpture and several busts. The name of the sculpture is "The Emigrant" or in Danish "Christina's Familie'' and represents a family that emigrated to the USA. The sculpture was unveiled on 4th of July 2000.
The busts at the entrance are:
Entertainer, Victor Borge, unveiled on 4

th

of July 2001

The founder of Rebildselskabet, Max Henius, unveiled on 4

th

of July 2002

USA's 27

th

President, William Howard Taft, unveiled 4

th

of July when he was the first president of honor of Rebild National Park Society inc.
All busts are created by the sculptor Dennis Smith, Utah, USA.