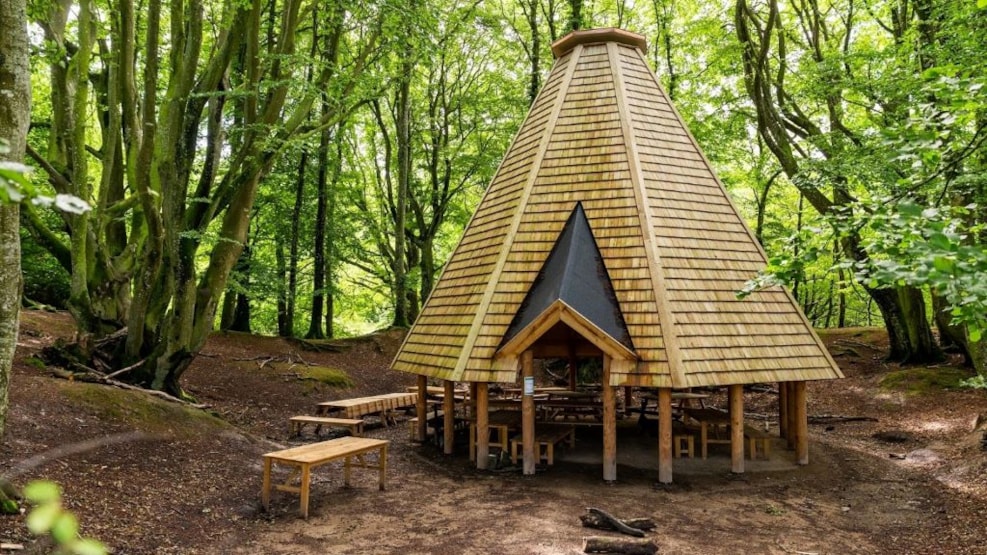 The Max Henius Bonfire Hut
Max Henius bonfire hut is located in Rebild National Park.
The Max Henius Bonfire Hut is located close to the parking area and is sheltered from the wind. Walk down the stairs from the parking area, turn left and find the bonfire hut behind some trees.
The bonfire hut is octagonal, and shaped as a tipi. The roof is coated with shingles, and it is 8.5 metres high.  
Facilities for everyone
Inside the hut, you will find six tables, and twelve benches with room for approx. 48 people. In the middle, underneath the smoke hole, you will find two fire pit grills, and with wood for general use which is located in the woodshed.  
Outside the bonfire hut, you can find an additional five sets of table and benches.
Everyone is welcome to use the bonfire hut, both for using the fire pit grills, eating your picnic basket, or simply resting. However, it is not possible to reserve the bonfire hut beforehand.
The users of the bonfire hut is responsible for the hut, and you must therefore leave the hut is the same conditions as you found it, and must bring along your waste when you leave.
The bonfire hut is named after the founder Max Henius
At the age of 22, Max Henius emigrated from Denmark, and settled in Chicago, where he build a career within brewing. He was in the lead of the Danish-American society, and was the founder of The Rebild National Park Society. An ambitious thought, which demanded both money and drive. At the first Rebild Celebration in 1912, he handed over the deed to the National Park Rebild Bakker to King Christian X of Denmark.
The bonfire hut was build in 2018 and is owned by the municipality of Rebild.