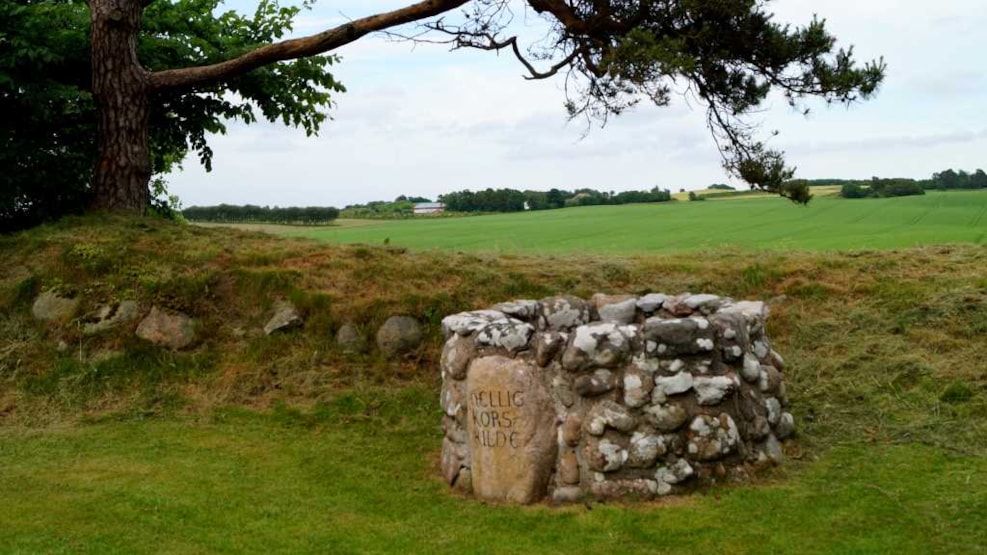 Helligkorskilde
Helligkorskilden is a beautiful dried out spring, with a nice view of field and meadow.
The inclusion, in this context, of the Helligkorskilde (The Holy Cross Spring) at Gl. Skørping Church is stretching the point a bit. It is mentioned because the Helligkorskilde is a good example of the fact that springs were considered to possess special powers since ancient times.
The 720 holy springs registered in Denmark had their heyday in the Middle Ages, but some holy springs continued to be of importance until our own time. Those, who believed in the curative powers of the springs, were mostly people suffering from rheumatism, paralysis, wounds and boils, and scabies, as well as stomach and eye diseases. Sick people especially, flocked to the springs on Valborg's eve, the 30th April, and on Midsummer Eve, the 23rd June. On these days, it was believed that the water had special healing powers. The water should be drunk, or poured onto the affected limbs, from newly made clay pots, which were then crushed and thrown into, or next to, the spring. At Skørping church, the potters from the village of Hellum sold well at the spring market.
After the Reformation of 1536, the pilgrimage to the springs was condemned as a Catholic phenomenon, but it was not totally forbidden because the church needed the money for social work. Spring markets were held at Gl. Skørping until 1890.
The well in the cemetery at Gl. Skørping can still be seen, but the healing effect of the spring cannot be tested anymore because the well is dry. The market, which was held on the site outside the stone wall around the cemetery, and the many pottery fragments found in the ground, are testimony to a particularly active spring to which many generations came to be healed.