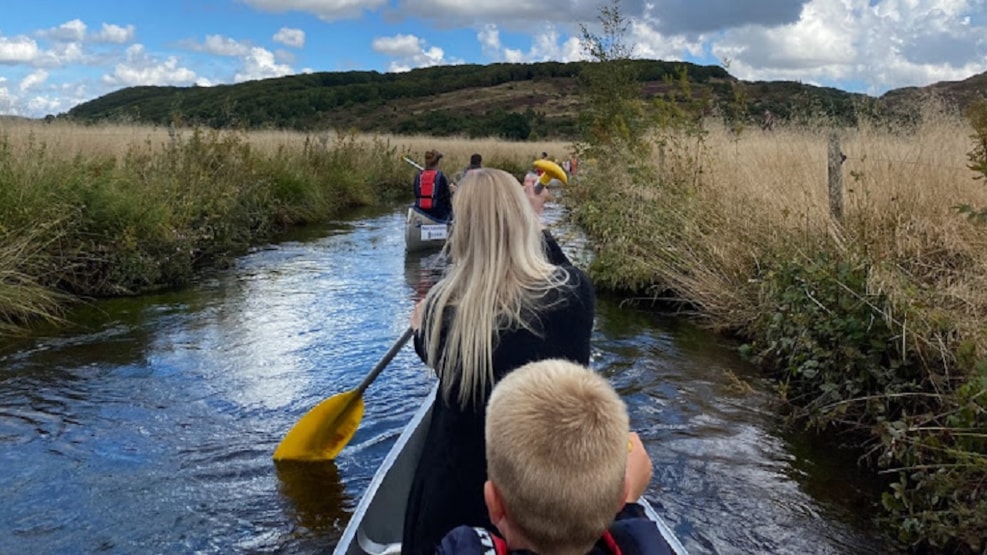 Canoe rental at Rebild Kanoudlejning
You can canoe along Lindenborg stream surrounded by natural beauty.
When renting from Rebild Kanoudlejning, the canoes are delivered and picked up at Lindenborg stream. The canoes are delivered at the bottom of Rebild Bakker at the location Nybro.  
Canoe rental pricelist
One-day rental: 500 DKK per canoe, including paddles, life jackets and pick up of the canoes if your trip ends at Lindenborg Gods or before. Otherwise, an additional 100 DKK is added per canoe. Notice that you will need to get back to the starting place by yourself. 
Two-day rental: 900 DKK per canoe, including pick up of the canoe, and does not depend on the length of the trip.
If you want to combine canoeing with a bike ride, we can deliver your bike to the finish location for 60 DKK per bike or you can rent a bike for 350 DKK, including delivery and pick up. 
OBS. as prices might change, make sure to check their website before booking a canoe. The page is only in Danish. 
5 possible trips
Rebild Kanoudlejning offers five different places to stop, along Lindenborg stream. All trips start at Nybro.
The shortest trip is to Klepholm/Kærvang close to Støvring. The trip is approximately 7 km and takes around 3 hours to sail. 
The next stop is at Støvringvej. It is 3 km longer and takes 25 min extra.

Third stop is at Håls Bro (Gerdingvej/Hålsbrovej). It is 17 km, which takes around 6 hours to sail. 

This trip ends at Lindenborg Gods. It is 21 km long and takes approximately 7 hours to complete. 

The last trip ends at the Limfjord, in Storvorde. It is 33 km and takes 11 hours. It is recommended to do this ass a two-day-trip. 
You can book your trip at Rebild Kanoudlejning OBS. The webpage is only in Danish.
If you have further questions, contact Rebild Kanoudlejning at (+45) 26 60 40 89.