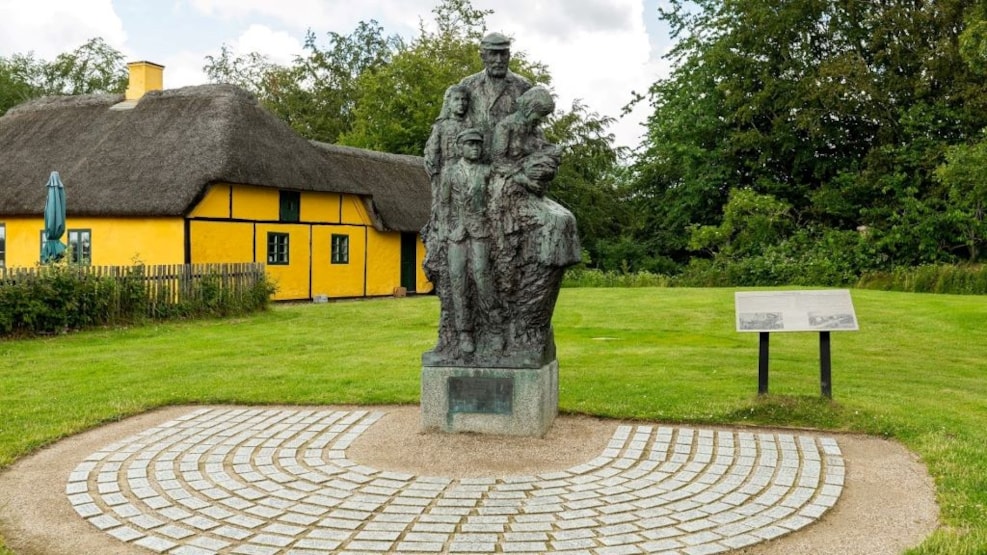 The Bronze Statue "Emigrants"
At the entrance to Rebild National Park, the Bronze Statue "Emigrants" also known as "Christina's Family".
Cobblestones with names of the Mormons who emigrated are placed in front of the statue.
The statue symbolises the emigration of a mother, a father and three children, and the grandmother, who looks longing back towards her native country. She is leaving her husband, and she knows that she will never return because the young family will need her when they arrive. The newborn, unfortunately, did not make passage, which shows that the travel across the Atlantic was for young children and fragile people because it was a tough travel.
The sculpture was created by Christina's great-grandchild Dennis Smith. Over the last 40 years, his work and presence have been a driving force in sculpturing in USA. His replicas of families, mother and children have become a part of USA's national cultural treasure.
The sculpture was donated to Rebild Selskabet by a group called "Sidste Dages Hellige" (Latter-day Saints) and was unveiled on July 4th 2000.