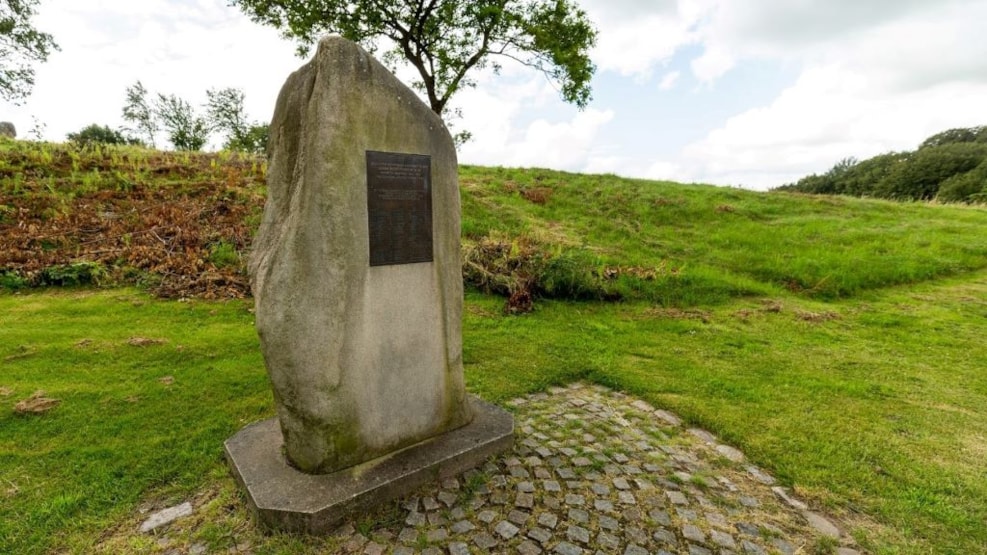 The Airmen's stone in Rebild Bakker
On May 3 1995, at the entrance to National Park Rebild, a monument was unveiled in memory of the 69 Allies pilots who were killed in action while delivering weapons and explosives for the Danish freedom fighters.
A small group of some of the most prominent names from the resistant movement was behind the memorial. These prominent persons were Jørgen Hæstrup, Flemming Juncker, Ole Lippmann, A. Toldstrup, Svend Truelsen, Erik Frandsen and the Queen's "principal officer" colonel Helge Gram.
The stone is granite, 2.8 metres in height, 1 metre wide, and 0.8 meter deep. The inscription on the stone states: "During dropping operations for the Danish resistance movement during the period of occupation 1940-1945, 69 allied pilots were killed. They defied the dangers of darkness and evil in the fight for freedom and peace. Therefore, they shall be remembered in the future with Denmark's gratitude".