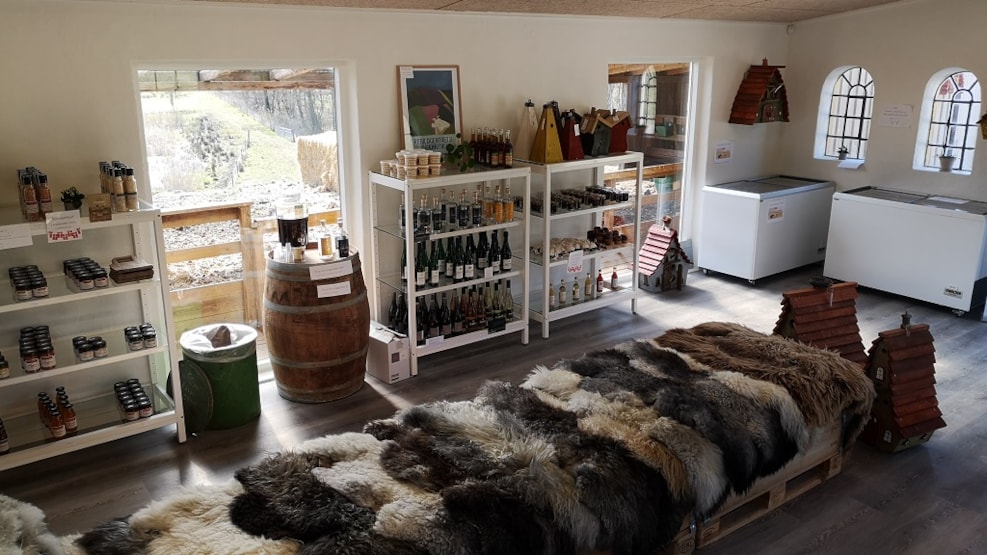 Farm Shop - Rebildcentrets Gårdbutik
Rebildcentrets farm shop has a large herd of livestock, which help with the nature management of Rebild Bakker. If the sheep and cattle did not graze in the hills, the hills would soon turn to forest. The livestock help the biodiversity of the area and maintain the unique nature of the heather hills. 
The farm shop sells meat from their sheep and cattle in their shop. In addition, you can also find beautiful and exquisite sheeps skin, from their own sheep. 
Furthermore, the shop has many lovely local goods, such as:
Apple juice from the Orchard in St. Brøndum
Variety of rose hip products from Hybengaarden in Jerslev
Honey from Engkærgaardens Biavl in Sejlstrup
Salt from Mariager Saltcenter
Wine from Guldbæk vineyard
Different kinds of flour from Falslevgaard Mill, located in Mariager
Ice cream from Vebbestrup Ice Cream
Rapeseed oil from Søndergaardens Rapsodi in Hobro.
Gin from Volsted Gin in Volsted
The selection of products may change, as new and interesting products are discovered. 
Close to the farm are some enclosures with a variety of farm animals, such as sheep, goats, and pigs. You are very welcome to say hi to them, as they are very friendly and love a good scratch on the head! It is also possible to take a hike from here, out in the beautiful landscape. 
Opening hours vary, so take a look on their Facebook page to ensure that they are open.